What Can You Do With A Foundation In Arts Programme?
A Foundation in Arts is a pre-university course that aims to equip students with the fundamental knowledge and skills to pursue an arts and humanities focused undergraduate degree. Thus, it focuses on subjects such as Communication, Economics, History, and Social Sciences.
Structure
The programme last one year, with a total of 2-3 semesters. This makes it comparatively shorter than other pre-university courses such as A-levels or STPM. Each semester students are required to take a few core compulsory subjects as well as electives, usually 4-5 subjects per semester.
Entry requirements for a Foundation in Arts programme are also typically lower than other pre-university courses. The requirements are different for each university but the average is often a SPM, SPMV, O-Level or equivalent qualification with five (5) credits, including Bahasa Melayu, English or Sejarah.
Curriculum
The core subjects will vary from university to university but typically include English, Mathematics (Statistics) or Critical Thinking. There is much larger range of electives that are dependent on what degree the student is pursuing. For example, Mass Communication majors would be recommended to take Introduction to Marketing while Business majors are recommended to study Macroeconomics.
Overall, the curriculum more focused and specialized. Grades are assessed through a combination of coursework and exams.
Recognition
Foundation in Arts are not administered by external bodies such as Cambridge A-levels. Instead it is tailor made for a future arts and humanities course in the same university. Thus, it enables students to have a smoother transition. However, this comes at the cost of being not as easily recognized or accepted outside of the university itself. This can make it more difficult if you plan to study overseas with a university not affliated with the one you studied in.
It is advised to find a university that has both a Foundation programme and the undergraduate degree you are interested in because universities usually pair Foundation in Arts courses with their own undergraduate degrees. For example, Foundation in Arts with specialization in Mass Communication. There also much more specialized Foundation in Arts courses that focus directly on a field of study, such as Foundation in Business or Foundation in Mass Communication
However, if you take a more general Foundation in Arts programme there are a variety of undergraduate options. Here are just some of the things you can pursue with a Foundation in Arts: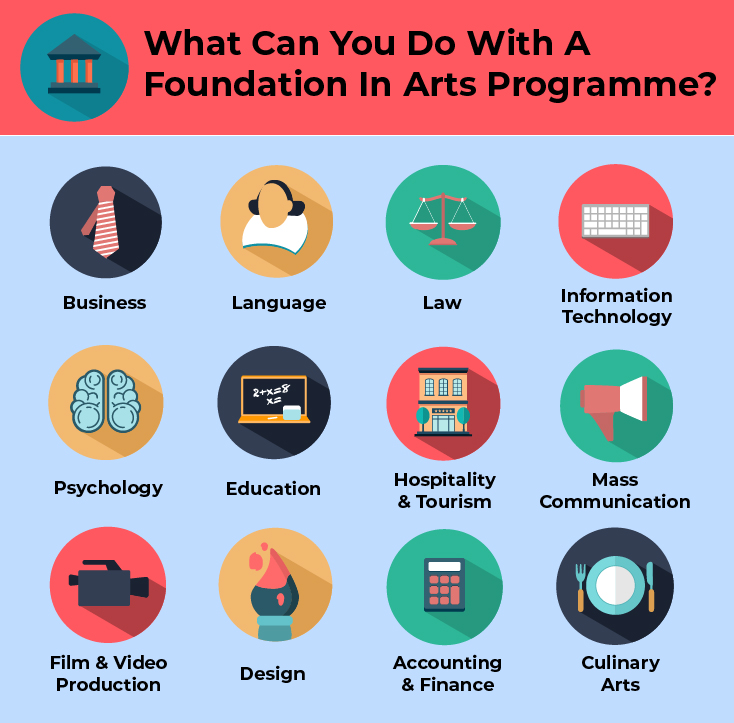 Business is one of the most popular options for students who completed a Foundation in Arts programme. A Business degree will prepare students in starting and operating their own business as well as the cultural, economic and legal context of the business world. There are a wide array of more specific majors within the field of Business itself such as Real Estate, Supply Chain Management, Human Resource Management, Entrepreneurship and International Business. The career options Business adviser, business analyst, corporate investment banker, project manager and supply chain manager.
In accounting, you learn to manage financial systems and budgets, undertake financial auditing and risk analysis. You will also gain deep analytical skills to appraise financial standings of companies as well as maximize their profits. With an accounting and finance degree potential career options include Tax Consultant, Forensic Accountant, Stockbroker, and Management Accountant. Find out 10 Things You Can Do With An Accounting Degree here.
Studying law will give you in-depth knowledge on the legal system. In law itself there are various specialization such as criminal law, intellectual property law, contract law, family law and property law. However, if you wish to practice law as a lawyer you will need to pass the Certificate in Legal Practice (CLP) exam which can take 9 months to a year. Other than a traditional barrister position, with a law degree you can also be a paralegal or solicitor.
Psychology is the study of the human mind and behavior. Psychologist seek to understand the normal and abnormal cognitive, emotional, and social processes that govern human behavior whether individually or as groups. Career options include therapist, social worker, child care worker, human resources agent and advertising agent.
Mass communication, also known as mass comm for short, is the study of how people exchange information through mass media to large segments of the population. Thus it includes everything from Journalism, Marketing, Public Relations, Broadcasting to Advertising. There are specialized undergraduate degrees for each of those areas too. Future career options include media planner, journalist, advertising agent, copywriter, radio deejay, public relations officer and social media manager.
Culinary Arts is the study of cooking, preparing and designing food usually in the form of meals. You will learn to prepare a variety of cuisines as well as how to smoothly operate a kitchen. With a degree in Culinary Arts you could be a sous chef, pastry chef, food & beverage manager, food stylist, and food critic.
Hospitality and tourism is a multidisciplinary field of study that prepares you to operate and manage in industries that provides food and beverages, accommodations, event management, travel and tourism services to individuals. Essentially, you will master the art providing of exceptional customer service. Career options include hotel manager, travel consultant, catering manager, event planner planner and restaurant manager.
It isn't just artwork that requires a creative mind, everything from billboards, furniture, gadgets, clothes, logos require an aesthetically pleasing look and feel. Design is segmented into various fields such as Graphic Design, Fashion Design, Industrial Design, Interior Design and Animation. Thus, with a degree in Design you can go on to be a Graphic Designer, Animator, Fashion Designer, Furniture Designer, Set Designer, Concept Artist and Web Designer.
Film and video production courses teach you the processes behind the making of motion pictures including filming, screenwriting, directing, producing and post-production editing. You don't just make movies or television shows with this degree, you can also produce corporate videos, wedding videos, commercials and event videos. With a degree in film and video production you could possibly be a director, producer, camera operator, scriptwriter, sound editor, video editor and cinematographer.
A degree in education will give you the skills and knowledge to conduct lessons, instruct and guide students in the most effective ways. Upon completion, you can be a primary school teacher, high school teacher, early education teacher, tutor, school administrator, education researcher and special education needs teacher.
Though both involve the studies of computers and technology, an Information Technology is not to be confused with a Computer Science degree. While a Computer Science degree focuses on the more 'scientific aspects' of computers such as programming languages and code, Information Technology focuses on the business and communication applications of computers. Hence, there is a lot more client interaction in this field as you aid business owners in fulfilling their technological demands. Career options include information security analyst, network architect, computer support specialist, systems administrator and database administrator.
There are multiple undergraduate degrees that focus on a particular language such as English, Bahasa Melayu, Mandarin Chinese and Japanese. For example, an English studies student learns reading, analyzing, and writing texts in the English language. You can also more specifically study the composition, literature, and linguistics of a language. With this degree you can work as a copywriter, editor, teacher, foreign language teacher, lexicographer, journalist, proofreader and translator.
Interested to know more? Check out our What Can You Do With A Foundation In Science article too.